Is There A Doc In The House?Boston Celtics fans have enjoyed the benefits of having Doc Rivers as their Head Coach for the last decade, during his run he brought the organization another Championship and energized the Celtics pride once more. All this talk about him possibly going to another team has fans wondering is there a Doc in the house? Things have heated up between the Celtics and Doc because of the ongoing dialog between Doc and the Los Angeles Clippers. What started out as just whispers around the league as just speculation has become full blown negotiation, including talk of future Hall of Famer Kevin Garnett as a possible piece of the puzzle.
Say It Isn't So! courtesy of Group CSEBoston General Manager Danny Ainge and Doc Rivers have enjoyed a great relationship over the years publicly, one can only speculate this situation could put a strain on the two mens friendship and jeopardize any possible return of Doc Rivers as Head Coach... As for the reports of him going to the Clippers as their Head Coach it would be great for the fans in LA. The Clippers have a great team of young talent that could use a Coach with Doc's experience, its no wonder why Clipper fans are hoping there is a Doc in the house!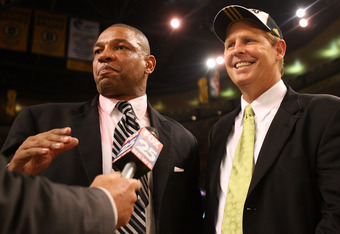 Good Times, courtesy of Bleacher ReportIs there a Doc in the house? Currently Doc Rivers remains the acting Head Coach of the Boston Celtics but as the drama continues to boil you wonder if the Celtics will draw a line in the sand or fire him. This situation is very interesting because Doc is a very good Head Coach so you wonder if they do fire him what would be the reason? Has there been things developing behind the scene that we haven't been privy too? Like most things we will soon find out, the media will dig up all the dirt there is! Personally speaking I think Doc Rivers is perfect for the job with the LA Clippers, he's a well spoken media savvy guy that will take the Clippers more mainstream! Is There A Doc In The House? Clipper Fans Want To Know... If Doc Rivers ends up Coaching the Clippers there's one thing for sure, you'll see the Clippers in prime time a lot more then you ever have in the past! Join What A Fan and fans from around the World in Orlando Labor Day Weekend at the Sports Fan Conference 2013. This First Annual Event will also feature the First What A Fan Awards, a tribute to the American Sports Fan. Super fans of all major sports will be honored, visit our web site or Facebook for more information...
Source:http://whatafan.blogspot.com/2013/06/is-there-doc-in-house.html
Is There A Doc In The House? Images

Is there a doctor in the house?, Health Services Clinic - Doctor
(770 x 960 - 122.12 KB - jpeg)
Musings: Is There a Doctor in the House?
(1600 x 1600 - 143.03 KB - jpeg)
Is There a Doctor in the House? - Arthur Wiki
(1001 x 768 - 170.56 KB - jpeg)
is there a Doctor in the house by *oomizuao | We Heart It
(500 x 814 - 52.94 KB - jpeg)